Kissing the Cup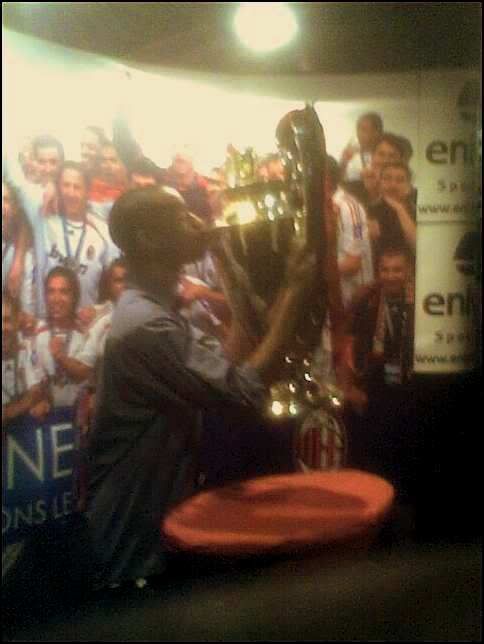 That's right, this is a photo of yours truly kissing the European Cup (try your hardest to contain your envy - jealousy will lead you down a dark path). How did this come about, you ask? Evidently, AC Milan is touring the trophy in an attempt to turn some unfortunate saps into Serie A fans (Milan fans at that - even worse!), and they made a stop at a prominent NYC soccer pub, Nevada Smith's.
Although they displayed the trophy most of the night, a disappointing number of patrons came through to see it, possibly due to the rain or the steam pipe explosion that crippled the East Side of Manhattan for much of the night. Milan gave out some promotional knick-knacks for the event, and its devil mascot, Milanello, was in the house along with some models (I missed that part, sadly), but the main attraction was the trophy.
Security around the Cup was surprisingly lax - there was just one representative from Milan, along with the aforementioned mascot and models, and a couple of bouncers - which meant that fans could pick up the trophy, kiss it, pose with it, basically do everything short of drink from it (and having gotten a good look at the inside of that thing, there's no way I'm doing that). I approached the trophy nervously, just hoping to reach out and touch it the way a runner-up would on the way to collect his second-place medallion. I put my hands around its handles and gave it a nervous lift; it wasn't all that heavy, and now a gleeful, childlike grin was sweeping across my face. I lifted it higher, and was instantly transported into the center of the field, confetti flying everywhere. I was Fernando Hierro, Paolo Maldini and Steven Gerrard, all at once (I imagine that any captain who lifts this thing must instantly feel as if he'd become every captain before him; it's quite a rush). Without many other patrons in the pub (and without a Pirlo-esque teammate to take the trophy and start a victory lap), I felt no pressre to put it back down, so I held onto it as long as I could. Eventually, I did put it down to examine its contents: in addition to the UEFA logo on the front, there is a French inscription that loosely translates to "Cup of European Champions." On the back, another French inscription; I interpreted this as saying "Vanquishers." There were names of memorable Cup winners of the past: Manchester United, powered by David Beckham corner kicks to take down Bayern Munich in injury time; Real Madrid, inspired by Nicolas Anelka, of all people, then two years later through a piece of Zinedine Zidane magic; and AC Milan, who I can't stand but to whom I am grateful for making this whole thing happen.
While there were few people around, the football fanatics who did arrive had the fan experience of their lives. I've never seen so many adults turn into little kids right before my eyes! One woman was just taking a walk down the street when she saw the advertisement outside of the bar; she came in, eyes widened at seeing the trophy, then went home to fetch her Milan shirt. When she returned, she lifted the trophy as if she were a member of the Maldini family herself. A girl visiting NYU had no idea what the trophy represented; when I explained to her that it was equivalent to the Super Bowl trophy (only way better), she exclaimed, "I'm going to be a soccer fan now!" One girl came in and giggled, "The World Cup is here!" I let her be. A Newcastle fan held it and said "One day, there will be black-and-white ribbons on this," to which a fellow patron countered, "Yeah, when Juve wins it." All and all, it was a fantastic evening, although my buddy Joe was slow in arriving and missed the trophy. Maybe next year, Joseph, maybe next year.