Know Your Yanks: Jimmy Conrad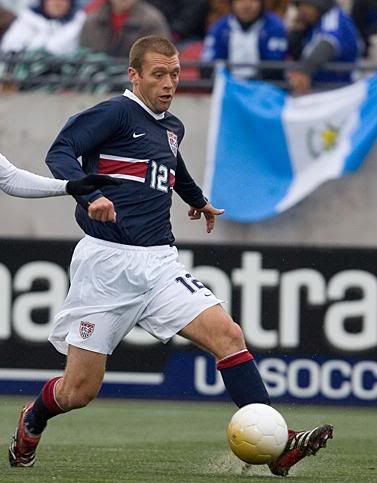 Some people dream of winning a World Cup, some dream of taking home a Pulitzer. Others dream of both, but with little chance of receiving either. This latter category includes both myself and U.S. defender Jimmy Conrad.
When he isn't busy writing humorous notes of self-deprecation for ESPN.com,
Jimmy Conrad
spends his time working hard as a rugged center-back for the USA. Like
Brian Ching
, Conrad is a veteran of the
A-League
, spending a year there before signing with the
San Jose Earthquakes
in 1999. It was with the 'Quakes that he began his
popular column
for SI.com (he moved to ESPN in 2005), detailing the daily grind of the average MLS player.
A member of San Jose's MLS Championship team in 2001, Conrad was traded to the
Kansas City Wizards
in 2003, where he began to turn heads with his stellar play in defense. His 2004 season ended with him being named to the MLS Best XI, and in 2005 he won the MLS Defender of the Year award.
Conrad made his U.S. National Team debut during the 2005
Gold Cup
, and his appearances for the Stars and Stripes steadily increased, culminating with his surprise inclusion in the World Cup squad. Conrad possesses decent speed, and brings physicality and toughness to a U.S. defense that already has plenty. He is good in the air, and occasionally gets forward on free kicks and corners. He makes good decisions and is rarely caught out of position, although his pace will be tested against the world's best forwards in Germany (well, that's if he even gets on the field for us).
Conrad is not expected to play much in the tournament; the U.S. already has several players ahead of him at central defense. He is on the team as much for his positive attitude as he is for his solid play. Nevertheless, the U.S. squad could do a lot worse for a backup option.
Career Highlights:
1998: Makes pro debut with the San Diego Flash (USA, A-League (United Soccer Leagues)).
1999: Signs with the San Jose Earthquakes (USA, Major League Soccer).
2001: Wins MLS Cup with San Jose.
2003: Traded to the Kansas City Wizards (USA, Major League Soccer) for a draft pick.
2004: Wins U.S. Open Cup with Kansas City. Named to MLS Best XI.
2005: Named MLS Defender of the Year. Makes U.S. Men's National Team debut. Wins Gold Cup with USA.